The Homestead Farm Homeowner Association Board appreciates the support of each Homeowner's adherence to the following Pool Rules and Regulations so that the Pool is an enjoyable amenity for all Members. Violations of the Pool Rules and Regulations may result in the Member being suspended from using the Pool.
May 27 to August 13, 2023
11:00 am – 7 pm: Monday, Tuesday, Thursday, Friday
11:00 am – 8 pm: Wednesday, Saturday, Sunday
August 14 to pool close
4:00 pm – 7:00 pm: Weekdays
11:00 am – 8:00 pm: Weekends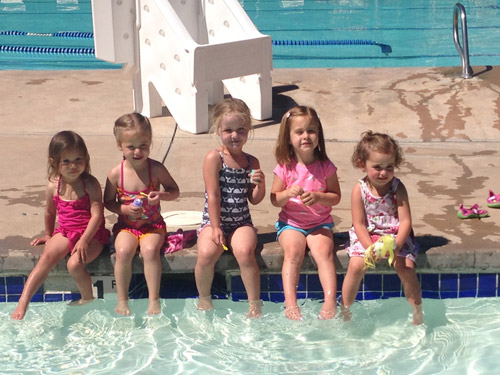 Pool Rules
Always obey lifeguard instructions.
No conduct detrimental to the safety of yourself or others is permitted.
No skateboards, rollerblades, scooters, or bicycles inside the pool area.
No pushing, spitting, or running on the pool deck.
Swearing or abusive language will not be tolerated.
No glass containers in the pool area.
No diving in shallow areas.
No hanging on the swim lane ropes.
No unnecessary conversation with lifeguards on duty.
No loud radios, etc. in the pool area.
Pool Regulations
Lifeguards have control of all activities in the Pool Area (inside the fence) and their instructions must be obeyed.
Children ages 12+ may use the pool without adult supervision.
Children ages 9 to 11 must pass a swim test and have a signed waiver on file to swim without an adult (please see a lifeguard for the waiver form).
Children under the age of 9 need supervision by a caregiver aged 15+.
Proper swimming attire is required at all times while in the Pool. NO STREET CLOTHES.
Pool privileges may be suspended for violations of Pool Rules or Regulations.
During regular Pool hours, the Pool will be cleared out completely at 45 minutes past the hour for cleaning. There is NO adult swim during this time, and everyone must leave the pool deck completely.
No chairs will be provided for the Pool deck. You may bring your own chairs to sit on and they must be removed at the end of your session.
The Association is not responsible for any loss or damage to personal property.
Baby Pool Regulations
NO LIFEGUARD supervises the Baby Pool.
Parents are responsible for their children using the Baby Pool.
Children 5+ years are not permitted in the Baby Pool.
Non-potty-trained children must wear a swim diaper while in the Baby Pool.
All children in the baby pool must be managed for social distancing rules of COVID-19.
Suspension of Pool Use
Lifeguards will issue a verbal warning to and inform the Member or guest of the Pool Rule or Regulation violation. If the Member or guest further violates a Pool Rule or Regulation, the following will happen:
1st: 30 minutes
2nd: Remainder of the day
3rd: 48 hours
4th: 1-week as determined by Pool Manager
5th: 2-weeks as determined by Pool Manager or HOA Pool Representative
ALL violations will be documented.
When a child is suspended, lifeguards will attempt to contact the parent(s).
The Arapahoe County Sheriff's department will be called to assist with any and all uncooperative Member(s) or guest(s).
Pool Parties
Complete the pool rental application which can be found under shared documents in your

 

homeowner portal, or under the pool tab on the Homestead Farm Association website.
Complete and sign the application form.Login to your homeowner portal in Appfolio to request a pool house reservation for a private party, a public party with 10-15 guests, or to rent a shade structure for four hours:
https://capmgmt.appfolio.com/connect/users/sign_in
Select the Amenities tab and choose the amenity that you would like to reserve. This tab will prompt homeowners to submit an email for the reservation.
Please make sure to attach your completed and signed application to your reservation email.
Swim Team Parent Contact:
Betsy Maletz
Sarah Edson
parentrep@homesteadfarm.org
Tarpons Swim Team for boys and girls ages 5-6 to 18 years (basically K-12th)
Mini-Tarps 4, 5, and 6 year olds. This will be a swim lesson for those kids who are going to Kindergarten in the fall or older swimmers who need to learn to swim and /or who aren't ready for the big team.
No prior experience necessary

7311 S. Glencoe Way, Centennial, CO 80122
Food Trucks
Wednesdays - May through September
5:30 - 7:30 pm
Schedule announced each Monday